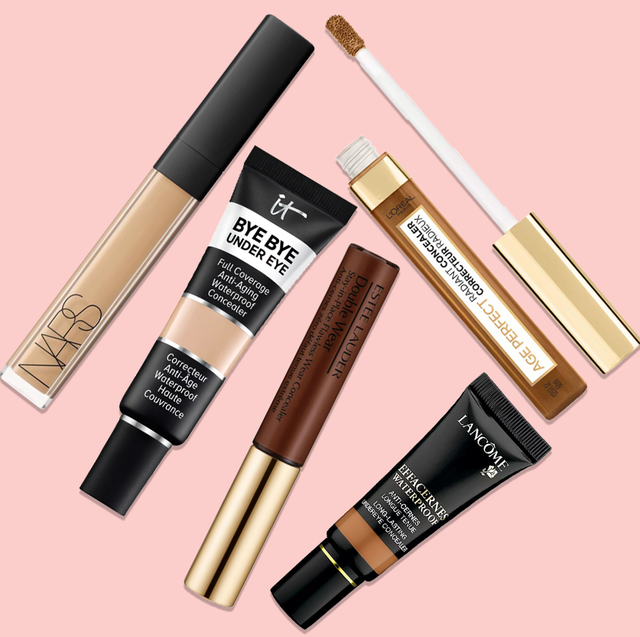 Tried & Tested: 9 Best Under-Eye Concealers of 2022 – Good Housekeeping
June 8, 2022
courtesy
Concealer is one of the most effective makeup products you can use, instantly helping even out your skin's tone whether you're wearing foundation or not. But not all coverups are created equal: Some are better for blemishes and dark spots, some for redness and others specifically for the under-eye area. Since the skin under the eyes is among the thinnest on the body, it tends to be dry and fragile, so it requires gentle concealer formulas that won't irritate, yet provide enough coverage for issues like dark circles and can spread easily over fine lines.
In order to find the best concealers, our analysts in the Good Housekeeping Institute Beauty Lab partnered with professional makeup artists to test 26 best-selling formulas, from drugstore concealers to high-end picks. They were assessed on attributes including application, texture, look and feel of skin during use and coverage level, culminating in 546 data points that were meticulously evaluated to create this list of the best under-eye concealers you can buy for dark circles, wrinkles, dry skin and more.
Our top picks:
You can read more about how we evaluate concealers in our lab and consumer tests — plus everything you need to know to shop for your perfect cover-up— at the end of this guide. Looking for more ways to improve your eye area? Check out our guides to the best eye creams and the best under-eye patches for your money.
Advertisement – Continue Reading Below
1
Best Overall Under-Eye Concealer
Double Wear Stay-in-Place Flawless Wear Concealer
Easy to apply
Smooth coverage
Good range of shades
Estée Lauder's magic wand of creamy coverup was a star in the GH Beauty Lab's under-eye concealer test, effortlessly evening out skin tone. In Lab evaluations, the formula earned the top score for dispensing, texture and spreading easily on skin, plus high marks for smooth coverage. "It's good for general coverage, too," makeup artist tester Dana Rae noted. Makeup artist Birgitte Philippides agreed: "A really nice concealer that can be used on everything."
• Coverage: Medium
• Number of Shades: 22
• Size: 0.25 oz.
2
Best Value Under-Eye Concealer
Instant Age Rewind Eraser Multi-Use Concealer
Strong yet natural-looking coverage
Smooth, softening formula
Built-in sponge applicator
A GH Beauty Lab test winner and Lab expert favorite, this softening, blendable Maybelline concealer featuring a handy sponge-tip applicator hides dark shadows, but won't go cakey or fade fast. The drugstore bargain formula scored high for providing dark circle coverage, not caking, being long-lasting and looking natural. Testers also emphasized its smoothness and how moisturizing it was. "It blended so easily into my skin without looking cakey or settling in my fine lines and covered my dark circles," a tester remarked. "Not drying and hid minor wrinkles well," another said.
• Coverage: Medium
• Number of Shades: 18
• Size: 0.2 oz.
3
Best Under-Eye Concealer for Dark Circles
Bye Bye Under Eye Anti-Aging Waterproof Concealer
Full coverage hides even severe dark circles
Large shade selection
Disguise even the most stubborn dark circles with this powerful IT Cosmetics concealer, a GH Beauty Lab test winner that lives up to its name. The waterproof formula earned an impressive perfect score for providing full coverage and comes in an extensive shade range. Made with a plethora of skincare ingredients, it's "great for severe undereye discoloration and dark marks," makeup artist tester Erica Whelan reported.
• Coverage: Full
• Number of Shades: 24
• Size: 0.4 oz.
4
Best Under-Eye Concealer for Wrinkles
Radiant Creamy Concealer
Doesn't settle into wrinkles
Large shade selection
Multi-use
A GH Beauty Lab test winner, this silky Nars concealer effectively covered not only the under-eye area, but also redness and blemishes without caking in wrinkles. In Lab testing, it received one of the highest marks for not settling into fine lines and all testers found a match within its impressive range of shades. Gentle but mighty, the coverup's soft wand applicator and even softer texture meant it "didn't dry out skin," a tester said. Another noted, "It blended so well that you couldn't tell I was wearing it."
• Coverage: Medium
• Number of Shades: 30
• Size: 0.05 oz.
5
Best Under-Eye Concealer for Mature Skin
Age Perfect Radiant Concealer
Non-drying
Covers dark cricles
Won't settle in lines
Good value
Good Housekeeping Seal star L'Oréal Paris's creamy concealer, infused with softening glycerin, vitamin E and sunflower seed oil, is a cover-up specifically for mature skin. In a study, users found the formula felt moisturizing on skin and 79% of women found it instantly minimized the appearance of dark circles, GH Beauty Lab data analysis confirmed. "Good coverage and good match to my skin tone," says GH Beauty Lab Executive Director Birnur Aral, Ph.D. "Gives nice soft focus under the eyes." GH Beauty Lab Chemist Danusia Wnek added: "A natural coverage that brightened my undereye very well, feels lightweight and doesn't settle into fine lines or dry out skin."
• Coverage: Medium
• Number of Shades: 16
• Size: 0.23 oz.
6
Best Non-Creasing Under-Eye Concealer
Effacernes Waterproof Protective Undereye Concealer
Doesn't crease or cake on skin
Long-lasting coverage
No worries about dreaded concealer creasing under the eyes with Lancôme's formula, a GH Beauty Lab test winner. In Lab evaluations, it rated the least likely to settle into lines, least cakey and was the longest-lasting, plus it ranked highly for dark shadow coverage. "It's lightweight and does conceal various skin concerns, including under eye dark circles," one tester reported. "It did not cake up or feel heavy in the wrinkles or creases of my skin."
• Coverage: Full
• Number of Shades: 11
• Size: 0.52 oz.
7
Best Hydrating Under-Eye Concealer for Dry Skin
Softlight Clean Dewy Hydrating Concealer
Contains skin-softening ingredients
Blends easily
Long-lasting
Applicator dispenses a large amount of product
Conceal dark shadows and even tone while keeping dry skin hydrated with this "soft-focus" Rose Inc. coverup, a GH Beauty Award winner. GH Beauty Lab expert evaluations found the formula, made with moisturizing squalane and vitamin E, gives lasting coverage that blends well. "Doesn't dry out skin" or "settle into lines," two testers commented.
• Coverage: Medium
• Number of Shades: 20
• Size: 0.36 oz.
8
Best Full Coverage Under-Eye Concealer
Studio Finish Concealer SPF 35
Multi-use
Gives the most coverage
Large shade selection
Hide everything from dark circles to redness with this GH Beauty Lab test-winning concealer pot from MAC Cosmetics, available in a wide range of shades to match a variety of skin tones. It provided the best coverage of all concealers evaluated, and every tester found the right shade for her skin. Boosted with protective SPF, the cream "spread easily" and "looked natural and felt like I had nothing on," testers said. "The best concealer I have ever used," one raved.
• Coverage: Full
• Number of Shades: 23
• Size: 0.35 oz.
9
Best Natural Under-Eye Concealer
RMS Beauty Un Cover-Up Concealer
Made with naturally-derived ingredients
Feels and looks moisturizing on skin
Natural finish
Made of naturally-derived mineral pigment in a coconut, castor and jojoba seed oil base, this rich cream coverup from RMS Beauty, a GH Beauty Lab expert favorite, melds into fragile undereye skin to cover and brighten. "I have extremely dry skin and eczema on my under-eye area, and this gives coverage that makes the delicate skin look hydrated, not parched and really doesn't feel or look like makeup," one GH beauty editor says.
• Coverage: Sheer to medium
• Number of Shades: 16
• Size: 0.2 oz.
How we chose the best under-eye concealers
The Good Housekeeping Institute Beauty Lab evaluated over 150 concealer products, narrowing the top contenders down to 26 finalists for additional testing. GH Beauty Lab scientists masked each concealer's label to eliminate brand bias, then distributed them to a panel of professional makeup artists. Each pro meticulously analyzed the formulas, rating them on factors such as application, texture, look and feel of skin during wear, coverage level and staying power. GH Beauty Lab experts then tallied 546 data points to find the best under-eye concealers on the market.
What to look for when shopping for the best under-eye concealer
Professional makeup artists recommend keeping these key points in mind when searching for an under-eye concealer:
✔️ Go bright: "The under eye area is where you want to attract the most light to your face," Whelan says. "Look for formulas that are brightening, radiant or luminizing to brighten up the under-eye area and disguise dark circles."
✔️ Take care with wrinkles: If you have them, "look for sheer to medium coverage so the concealer doesn't settle into fine lines," she advises.
✔️ Pick liquid or cream: "I prefer a liquid or creamy concealer over a solid stick formula, which can settle into the fine lines on more mature skin," Whelan notes.
What color concealer is best for dark circles?
"Choose a shade that is one shade lighter than your foundation color to brighten up the under-eye area," Whelan recommends. "Or you can use a color that has a pink or peach undertone that will neutralize dark undereye circles." Rae agrees: "Look for a brightening concealer that has a salmon or pink undertone."
What's the best way to apply under-eye concealer?
"The best application method is to dot the concealer under the eye and tap the product into place with your ring finger or a small fluffy eye shadow brush," Whelan suggests. Be sure to cover from the inner corners of the eyes up to the lower lashline and down to the tops of cheekbones, stopping at the outer corner of eyes, blending well.
Why trust Good Housekeeping?
Sabina Wizemann has worked as a chemist in the GH Institute Beauty Lab since 2012, with an additional six years of prior experience as an organic chemist in the cosmetic, hair dye and biotech industry. She conducts beauty product testing across all makeup categories for GH, including executing our most recent concealer test. Wizemann also reviews applications, substantiates claims and evaluates products for the GH Seal and Beauty Award programs.

April Franzino has over a decade of experience working in the Good Housekeeping Institute Beauty Lab, including the past seven years serving as beauty director. In her role, she oversees all beauty editorial content at Good Housekeeping, working closely with the GH Beauty Lab scientists to develop, execute and translate product testing into compelling, factually accurate editorial in categories like makeup, including concealers.
April Franzino
Beauty Director
April Franzino produces and oversees all beauty editorial content for Good Housekeeping, including pitching, reporting, writing, editing and market work, culminating with the magazine's yearly Beauty Awards special.
This content is created and maintained by a third party, and imported onto this page to help users provide their email addresses. You may be able to find more information about this and similar content at piano.io
Advertisement – Continue Reading Below
You May Also Like
June 15, 2022